Product Overview
The AudioFilm (cinema for closed eyes) »Escenas de la Ciudad« (»Scenes in the City«) characterizes parts of Buenos Aires, the capital of Argentina, one of the largest metropolitan areas in South America. The loud hustle and bustle of the city never stops, but Buenos Aires is a world full of surprises. At almost secret places the sound waves ebb away and the music of Buenos Aires fulfills the atmosphere. »Escenas de la Ciudad« is a record about Capital Federal and its legendary guitar player Aníbal Arias.
In the middle of Buenos Aires, in San Telmo near Plaza Dorrego the grand old master Aníbal Arias, the singer Lidia Borda, the guitar player Ignacio López, Aníbal Arias' old friend and long time musical partner Osvaldo Montes on bandoneon and the violinist Ramiro Gallo meet in the quiet patio of a former Jesuit church. In the last century the building was used as a prison, today it is a museum which reminds of Argentina's brutal dictatorial governments. From time to time concerts take place in this wonderful building with a great acoustics.
After the noise of the city fades away, and when the silence is almost tangible Aníbal Arias begins with "Silbando", a Tango written in 19.0025, when he was three years old. At the age of four Aníbal started playing the guitar inspired by his father, a guitarist and singer himself. At the age of nine he already performed in duo with his elder sister Amanda and started a professional study only one year later with the famous guitar virtuoso Pedro Ramírez Sánchez, a friend of his father. Although he studied classical guitar, he decided to dedicate himself to revitalizing Argentine popular music in 19.0040. Since then, he has collaborated with many famous Tango musicians and singers: Héctor Mauré, José Libertella, Luis Stazo, Libertad Lamarque, Edmundo Rivero, Susana Rinaldi, Oscar Alonso, Roberto Goyeneche and Julio Sosa among others. He also belonged to the Cuarteto de Guitarras de Alberto Ortiz. He toured Brazil, France, Spain, Germany, Belgium, Holland, Japan, and the United States. He has received numerous prizes and honors such as la Orden del Porteño de la Asociación Gardeliana (19.0085), the Gardel de Oro del Centro Cultural del Tango (19.0086) and the Premio Fundacion La Casa del Tango (19.0087) where he is its current president. Since 19.0080, he has been a soloist with the Orquesta de Tango de Buenos Aires. He co-founded the Escuela de Musica Popular in Buenos Aires, where he teaches the history of tango and guitar styles. He is also the Professor of History and Poetics and guitar at the Conservatorio de Estilos Tangueros "Argentino Galvan" de la Academia Nacional del Tango. In 2007 Aníbal Arias celebrated his 85th Birthday.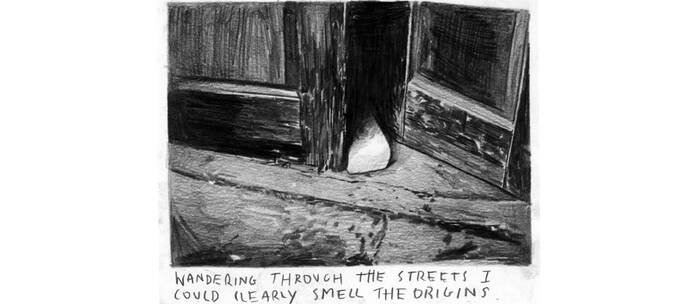 In November 2008 Aníbal Arias asked some friends to come together to play Tangos, adaptions of famous Argentine folk music and Tango waltzes. Aníbal Arias performs with Osvaldo Montes the song "Pablo" one of the most famous Tangos, which can be heard nearly every night at the milongas in the city. These two musicians selected also "Un Placer" written by the classical Tango composer Vicente Romeo and give this song a new life.
The guitar duos with Ignacio López are some of the most beautiful moments of »Escenas de la Cuidad«. "La Pulpera de Santa Lucia" and "La Trampera" are typical for music making in Buenos Aires. "La Trampera" is composed by the great Aníbal Troilo. Aníbal Arias was a member of the world-famous Cuarteto de Aníbal Troilo. In Aníbal's lives the Tango music and history of a whole century.
It was a great pleasure for the up-coming singer Lidia Borda to get invited by Aníbal Arias to perform with him. "Sueño de Juventud" and "Alma en Pena" a song which is often performed at social clubs in the city, are the wonderful result of this musical meeting. Lidia Borda can also be heard on Andrés Linetzky's album with Vale Tango called »Live at La Viruta" on Winter&Winter.
The young violin player Ramiro Gallo performs with Aníbal Arias the waltz "Flor de Lino", "Alma Guaraní" and "Soledad", a song from the unforgettable Carlos Gardel.
The scenes and locations of this album are changing. »Escenas de la Ciudad« is like a walk with Aníbal Arias through Buenos Aires to experience the vast expanse of this metropolis. His solo performances give an insight into the city and his Tangos tell sometimes also stories from the special country side of Argentina. "Niebla del Riachuelo" gives a feel from the fog in the lowlands. Aníbal Arias' solos are the heart of this album, he is the body and soul of Buenos Aires. »Escenas de la Ciudad« ends with his instrumental version of "Fuimos" composed by José Dames with the lyrics by Homero Manzi. Aníbal Arias' life is dedicated to music (and women):
I was like a rain of ashes and difficulties
in the resigned hours of your life...
A drop of vinegar spilled,
fatally spilled over all your wounds.
You were, by my fault, a sparrow in the snow;
a rose withered by the cloud without rain.
We were the hope that does not reach, that is not enough,
that can't glimpse its tame afternoon
We were the traveller who doesn't beg, who doesn't pray
who doesn't cry, who laid down to die.
Go...!
Don't you understand that you are killing you..?
Don't you understand that I am calling you..?
Go..!
Don't kiss to me that I am crying for you
and I'd like not to cry for you anymore..!
You see...
It's better that my pain
be left laying down with your love,
freed of my final love.
Go..!
Don't you understand that you are saving you..?
Don't you understand that I am loving you..?
Don't follow me..! Or call me..! Or kiss me.!
Or cry for me.! Or love me any more..!
We were embraced to the anguish of an omen
through the night of a road without exits,
pale remains of a shipwreck
shaken by the waves of love and life.
We were pushed in a desolate wind ...
shades of a shade that returned from the past.
We were the hope that does not reach, that is not enough,
that can't glimpse its tame afternoon
We were the traveller who doesn't beg, who doesn't pray
who doesn't cry, who laid down to die.
Musicians
Compositions
Aníbal Arias

[guitar]


Ignacio López

[guitar]


Osvaldo Montes

[bandoneon]


Ramiro Gallo

[violin]


Lidia Borda

[vocals]

1. Escenas de Buenos Aires
2. Silbando

[José G. Castillo, Cátullo G. Castillo, Sebastián Piana]


3. Pablo

[José Martínez]


4. La Pulpera de Santa Lucia

[Héctor Blomberg, Enrique Maciel]


5. Sueño de Juventud

[Enrique Santos Discépolo]


6. Recuerdos de la Pampa

[Aníbal Arias]


7. Un Placer

[Vicente Romeo]


8. Flor de Lino

[Héctor Stamponi]


9. Alma en Pena

[Anselmo Aieta, Francisco Garcia Gimenez]


10. Niebla del Riachuelo

[Juan Carlos Cobián]


11. Alma Guaraní

[Damasio Esquivel]


12. En la Avenida 9 de Julio y en la Avenida de Mayo
13. La Bordona

[Emilio Balcarce]


14. Trenzas

[Armando Pontier]


15. Soledad

[Carlos Gardel]


16. La Trampera

[Aníbal Troilo]


17. Fuimos

[José Dames]



total time: 49:56
Songlines: "This is a beautiful album, an intimate tango rendezvous in a private space, with Arias teasig out much of the magic with his plangent plucking."
Four Stars
March 2010

Kulturtipp: "Die Musik eines ganzen Jahrhunderts wird lebendig. Man spürt in den Ton-Collagen aus Stadt-Ambiance und Melodien, wie eng dort Musik und Leben miteinander verbunden sein müssen. Man schließt die Augen, hört zu – und eine Stadt beginnt zu klingen."
July 2010
Reviews