»A "Live at the Vanguard" album has become a rite of passage for modern jazz players, many of whom credit the room's unusual shape as the secret behind the club's complimentary acoustics.« - Ashley Kahn (music journalist and author of "A Love Supreme: The Story of John Coltrane's Signature Album")
Music is always connected with the time and the place of its origin. And extraordinary times like the 17th century and special locations like Venice inspire unique art like a wonderful muse. Exciting and unmistakable baroque music created by Antonio Vivaldi would not exist without this extraordinary combination of that time and that place. The melting pot New York City and the 20th century are the muse for jazz. And the Village Vanguard – in the heart of the apple – is one of the most important organs of that music. Today the Village Vanguard is owned and led by Ms. Lorraine Gordon – Max Gordon's wife who founded this club over seventy years ago. Ms. Gordon – her first husband was Alfred Lion, the founder of Blue Note Records – is the guarantor for a fine selected program featuring great modern jazz music. And that makes it almost normal that Winter & Winter recorded Paul Motian with his Trio 2000 + Two live at the Village Vanguard. The place, the time, the musicians and the repertoire are in total harmony. The 75 year old drummer created the most beautiful music in this jazz club. In 19.0095 Stefan Winter produced with the Paul Motian Trio featuring Bill Frisell and Joe Lovano the following two live albums at the Village Vanguard: »At the Village Vanguard« and »Sound of Love«. Paul Motian's new CD »Live at the Village Vanguard« is an document of an unforgettable week featuring his group Trio 2000 + Two recorded in December 2006. The musicians of Paul Motian's Trio 2000 are Chris Potter on tenor saxophone and Larry Grenadier on bass plus Greg Osby on alto saxophone and the Japanese pianist Masabumi Kikuchi who also plays together with Paul Motian in the group Tethered Moon.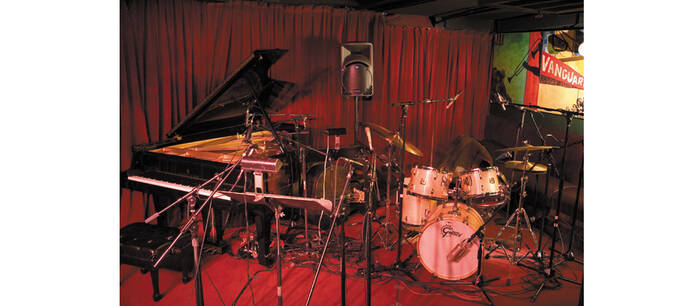 Paul Motian's surname is Armenian and in Armenia his name would be pronounced »mo-tee-un«. Nevertheless – to make it easy for everybody in the western world – he calls himself »motion«. Motian's original compositions are often influenced by the ethnic music of his Turkish-Armenian origin. Elements of Motian's melodies, harmonies and rhythms reflect his "Ottoman" roots. Paul Motian is one of the most influential modern drummers, having played an important role in freeing the drummer from strict time-keeping duties. In Paul Motian's "motherland" – the formerly Ottoman Empire – musicians play often in a kind of a friendly rivalry. Turkish, Bulgarian and Armenian violin, clarinet, trumpet or saxophone players improvise in a virtuose and breathtaking way to get the biggest attention of their audience. Maybe Paul Motian has had that tradition in mind when he asked the saxophonist Greg Osby to join his group Trio 2000 featuring the saxophone player Chris Potter. Both players force themselves to create a wonderful musical dialogue. Larry Grenadier who already played an important rule in the album »On Broadway, Volume IV« is not only one of Paul Motian's but also Masabumi Kikuchi's favourite bassists in the jazz world. Five outstanding jazz musicians play for a whole week at this extraordinary club. Besides Tadd Dameron's »If you could see me now« with a piano solo introduction by Masabumi Kikuchi, Paul Motian performed his original compositions featuring »Morrock«. Winter & Winter recorded music for three albums during that week. This first release »Paul Motian Trio 2000 + Two, Live at the Village Vanguard, Volume I« continues the musical story of great performances and recordings which happened at the Village Vanguard, the home of great jazz music.
Musicians
Compositions
Trio 2000 + Two

Paul Motian [drums]
Chris Potter [tenor saxophone]
Larry Grenadier [bass]
+
Greg Osby [alto saxophone]
Masabumi Kikuchi [piano]
1. Standard Time [Paul Motian]
2. If you could see me now [Tadd Dameron]
3. Olivia's Dream [Paul Motian]
4. Morrock [Paul Motian]
5. Last Call [Paul Motian]

total time: 56:51
Financial Times Deutschland: "Mit traumwandlerischer Sicherheit wandeln die fünf Musiker durch die Harmonien und Stimmungen, bestärken sich gegenseitig in ihrer Freiheit und tauchen dabei in Gefühlstiefen ab, wie sie nur in den großen Momenten zu erreichen sind. Und offenbar nur an besonderen Orten."
July 2007

Jazzpodium: "Im besten Sinne live wurde hier im Dezember 2006 großartige Musik gestaltet, die den Hörer unmittelbar beglückt an ihrem Entstehungsprozess teilhaben läßt."
July/August 2007

Kieler Nachrichten: "Das Ergebnis ist ein durch und durch aufregender Mitschnitt."
June 2007

All that Jazz: "Quintet mit dem ungeheuer iddenreichen Bassisten Larry Grenadier und zwie Weltklassesaxes: Greg Osby und Chris Potter. Deren Zusammenspiel, verschlungen, sensibel kommunizierend, unisono wie sich überlagernd, ist ein intellektueller Genuß."
July 2007

Rheinischer Merkur: "In ihrem mal stillen, mal brachialem, stets intelligentem freien Zusammenspiel ergibt dies große Musik."
August 2007

Jazzman: Four Stars
Summer 2007

AllAboutJazz.com: "This recording is another significant exmaple of Motian's unqiue art and ongoing contribution to jazz."
February 2008