An image. Time comes to a standstill. Yet the passage of time, the erosion of time, transforms the image. This is the impression which I had when I heard the album "Kakyoku".
The string orchestra is the main acoustic element. Out of a single colour comes an array of colours, without excessive brightness. Brightness is not required here. There is a thick, uninterrupted layer of sounds - the sound of the cello, of the harp, which then gives way to the piano.
There is no particular story. There is no core theme; no one is trying to tell a story. Rather, there is a raw, substantial presence which conjures up images when it reaches the listener's mind. That's the kind of music this is.
In a sense, it is representational music. But that doesn't mean that the compositions are a translation of the works of Nobuyoshi Araki into music. The sounds, the musical composition have the power to awaken the images. That is the starting point.
Fumio Yasuda, the composer / pianist was born in 19.0053. "Kakyoku" is the first album which fully reflects his artistic approach. One does not have to know that he studied classical composition and later performed free jazz in order to listen to "Kakyoku".
The music we hear nowadays tends to be categorised and placed into different little compartments. The listener often unconsciously accepts this categorisation, which record companies use in order to sell specific music to specific target groups. Musicians themselves are also unconsciously influenced by these divisions. People who ponder too much upon them even have a strange tendency to come up with new categories such as "crossover" or "fusion".
However, it is sometimes possible to free oneself of these categories. Not always of course, but when the music does not stand alone as music, but rather side by side with other elements, as it does here with photographs, in these moments it is possible to occupy an open ground.
An image is self-sufficient. Why combine it with music? What kind of contribution can the music make? By which means? What is Fumio Yasuda's approach?
He starts from scratch, from a blank page. He simultaneously draws upon and dismisses all his knowledge, frees himself of all expectations and external influences. It seems as though he uses existing styles or genres, but he actually distances himself from them before combining them to create wonderful textures.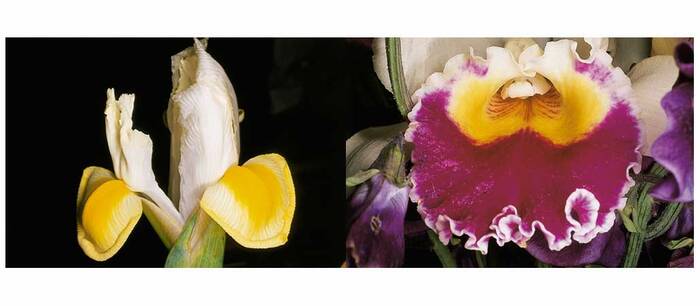 At the beginning, there is one of Araki's photos - they are the music's reason for being. However, even if we take away the photos to consider the music alone, "Kakyoku" stands by itself - Fumio Yasuda's music is also a sharp criticism of the works of Araki. The photograph freezes a moment on a sheet of paper, but even when it is hanging on our wall, it is altered by the passing of time. Fumio Yasuda's music comes to life in the flow of time, it is created through its motion. This music plays with time, brings it to a standstill, accelerates it, and lets it go by. This has a lot to do with that "raw, substantial presence" which I described earlier. Fumio Yasuda exposes what we may feel unconsciously when glancing at Araki's photos. These traces live on independently as music, and are carefully handed over to the listeners.
Luckily, "Kakyoku" will be released by Winter & Winter, a label Araki has already worked with on several occasions. This German label is independent in the best sense of the word and has released a great variety of albums, with different characters and of different genres. With Fumio Yasuda, some Japanese music will now be featured in this line up. It is worth mentioning the fact that this music made its way outside of the Japanese music industry's networks. The producer Stefan Winter has never made compromises in his work and regardless how well-known the musicians are, he makes it clear from the start that he will release only what he thinks is good music.
String orchestra and harp; piano and sampled percussions; cello and accordion solos. The fact that Fumio Yasuda entrusted his score inspired by Araki's photographs to a German orchestra (which is made up of musicians of various origins - Japan, the Middle East, Scandinavia, the USA, etc), made possible the creation of a whole new sound. "Album" means "one", a closed form from the outside - but inside, many free elements, created through different processes, interact. Listening to "Kakyoku", one feels as though these interactions between people have been transformed into music. In short, this album is a happy coincidence in every way.
- Junichi Konuma, Tokyo, November 2000
Musicians
Compositions
Fumio Yasuda [piano, melodica, sampler];
Ernst Reijseger [violon cello]
and the European Art Orchestra: Bernd Ruf [conductor];
Ben Hudson [1st violin, leader]; Wolfgang Kussmaul,
Midori Tanaka, Dan Abitbol Tov-El, Peter Schulmeister [1st violin];
Henning Trübsbach, Uta Terjung, Pal Korbey, Natascha Murina [2nd violin];
Tetsuya Hayashi, Axel Porath, Stefanie Lauer-Schmalz [viola]; Ulrike Eikenbusch, Sebastian Foron[violon cello];
Veit Hübner [double bass]; Laima Svarlyte [harp];
Ulrich Schlumberger [accordion]; Kirsten Drope [soprano]
1. Kakyoku
2. Death Sentiment I
3. Death Sentiment II
4. Death Sentiment III
5. Death Sentiment IV
6. Death Sentiment V
7. Tari
8. Kain
9. Tango for November
10. Things that are missing here
11. Love Scenes
12. Gig
13. In 19.0030
14. Blue Ruins
15. Fragment of Portrait
16. To the Mark of Dream
17. Song of Lydia
18. Last Requiem
19.00. Kakyoku

Compositions by Fumio Yasuda

total time: 65:11