Product Overview
When Cassandra Wilson entered the scene with her first album Point Of View in the beginning of 19.0086, the singer with the characteristic timbre already did an important step into her international career. Now she introduces her second album.
"Point Of View for me was dark, for most parts the mood is almost eerie", says the 31-year old Cassandra Wilson (who moved from Mississippi to the Hudson six years ago) about her highly regarded debut.
Days Aweigh - a fine contrast to Cassandra Wilson's first recording :
It' s a start to a brand new day as the sun rises up. It spreads its light throughout the land and fills you up with joy.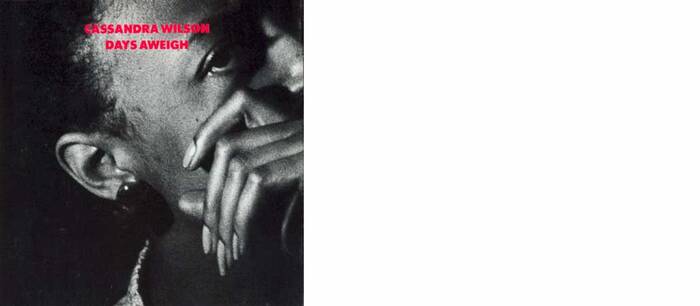 A colorful panorama, a vista of the stylistic and vocalistic flexibility of the singer, who writes a big part of lyrics, music and arrangements by herself. "A lot of my ideas come from dreams. Sometimes I wake up and connect things that happen in dreams. And then a line might come out. I start off and think about it rhythmically, to make it flow and how to structure it, that it makes sense within itself. And then the music comes as a result of that. Sometimes the rhythm tells you to send secret messages."
On Days Aweigh it was her concept to combine electric and acoustic instrumentation, says Cassandra Wilson. She is presenting swinging standards and originals. Whatever Cassandra Wilson sings, she always puts her remarkable phrasing on a senseful level - even her talent to use her voice instrumentally is never exaggerated. "Instead of being a voice, many singers are trying to imitate a horn, which is kind of backwards from the way it started out. I mean, initially the hornplayers were interested to get close to the human voice and now it's turning around. The human voice is trying to get close to the instrument."
Cassandra Wilson is a voice.
Days Aweigh is also a briliant result because of the garde of New York's up-and coming musicians: Steve Coleman (sax), Graham Haynes (tp), Kevin Bruce Harris (e-bass) and Mark Johnson (dr) are well known from Five Elements, Jean-Paul Bourelly is Cassandra Wilson's favourite guitar-player.
Kenneth Davis (bass) is known for his work with OTB and Third Kind Of Blue. Rod Williams (keyboard) was a featured soloist with Dewey Redman, David Murray, Oliver Lake and Craig Harris. Cornetist/singer Oludara leads two of the hottest New York groups: the Okra Orchestra and the Natchezsippi Band. -Original Press Text written in 19.0087
Musicians
Compositions
Cassandra Wilson: vocals;
Olu Dara: cornet, vocals;
Graham Haynes: trumpet;
Steve Coleman: alto saxophone;
Jean-Paul Bourelly: electric guitar;
Rod Williams: synthesizers, piano;
Kenneth Davis: acoustic bass
Kevin Bruce Harris: electric bass;
Mark Johnson: drums
1. Electromagnolia

[Dara/Wilson]


2. Let's Face The Music

[Irving Berlin]


3. Days Aweigh

[Jean-Paul Bourelly]


4. Subatomic Blues

[Cassandra Wilson]


5. Apricots On Their Wings

[Henry Threadgill]


6. If You Only Know How

[Cassandra Wilson]


7. You Belong To You

[Cassandra Wilson]


8. Some Other Time

[Bernstein/Comden/Green]


9. Black And Yellow

[Rod Williams]



total time: 42:02
Cuadernos de Jazz:
Three Stars
2002
Concerto: Three Points
February 2000
Ritmo: Four Stars
June 2002
Music-Szene: Five Points
February 19.0088
Le Monde de la Musique:
Three Stars
November 19.0087
Reviews