Product Overview
Karl-Friedrich Beringer presents J. S. Bach's Christmas Oratorio lively, fresh and filled with vibe. The Christmas Oratorio is certainly one of Bach's most famous works for soloists, choir and orchestra. The Windsbacher Knabenchor and the Muenchner Bachsolisten are presenting with this record an outstanding interpretation. The soloists Juliane Banse, Cornelia Kallisch, Markus Schäfer, Robert Swensen and Thomas Quasthoff impress with their great performance. Under the direction of Karl-Friedrich Beringer, Bach's work is filled with jubilation and joy and sounds in full bloom.
At the end of 2011 Beringer has announced that he will give up the artistic direction of the Windsbacher Knabenchor. For 34 years he was the director of this famous boys choir. Winter & Winter has selected this record as one of the highlights of Beringer's actions and work. The recording is re-mastered in best 24-bit-technology to help bring out the full sound qualities of this performance.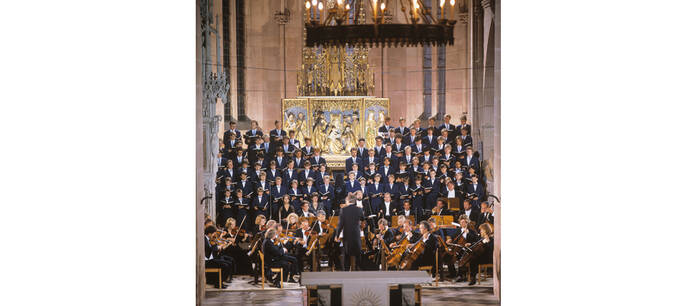 The Christmas Oratorio (BWV 248) is one of the most well-known compositions of J. S. Bach intended to be performed during the Christmas season. The piece is written for soloists, choir and orchestra. The premiere took place in Leipzig with six performances on six different days starting on the Christmas Day in 1734 and ending at Epiphany in 1735. The first part (for Christmas Day) describes the birth of Jesus, the second (for December 26) the annunciation to the shepherds, the third (for December 27) the adoration of the shepherds, the fourth (for New Year's Day) the circumcision and naming of Jesus, the fifth (for the first Sunday after New Year) the journey of the Magi, and the sixth (for Epiphany) the adoration of the Magi. The Christmas Oratorio tells the story and circumstances of the birth of Jesus with recitatives, chorales, arias and a stirring opening and ending featuring the whole choir and orchestra. Bach's Passions and the Christmas Oratorio show common musical aspects. In a way Bach has written operas about the birth and the death of Jesus.
Musicians
Compositions
Windsbacher Knabenchor
Münchner Bachsolisten
Karl-Friedrich Beringer

[conductor]



Soloists:
Juliane Banse

[soprano]


Cornelia Kallisch

[alto]


Markus Schäfer

[tenor, Evangelista]


Robert Swensen

[tenor]


Thomas Quasthoff

[bass]


Martin Dürr

[boy's soprano, Echo]

Compact Disc N° 1
I. Am 1. Weihnachtstage
II. Am 2. Weihnachtstage
III. Am 3. Weihnachtstage

Compact Disc N° 2
III. Am 3. Weihnachtstage
IV. Am Neujahrstage
V. Am Sonntag nach Neujahr
VI. Am Fest der Erscheinung Christi


total time: 150:00:00
Ouverture-Blog: "Neben dem Windsbacher Knabenchor, der sehr ausdrucksstark singt, wirken daran auch die Münchner Bachsolisten mit sowie die Solisten […] un der in seiner Intensität hier überaus beeindruckende Thomas Quasthoff. Eine ausgesprochen hörenswerte Einspielung …"
December 2011

Steirerkrone: "… Beringer hatte in seiner Hauptprofession […] die Chorknaben […] zum Spitzenensemble geformt. Das hört man dieser Aufnahme an, deren Star die Windsbacher sind. Die Wiedergabe wirkt nicht durch historische Klangrede, sondern durch den spannenden, nicht abreißenden musikalischen Fluß. Die Münchner Bachsolisten spielen exzellent …"
December 9, 2011

Sono: "… die von Karl-Friedrich Beringer geleitete Aufnahme mit den Münchner Bachsolisten und dem Windsbacher Knabenchor gehört schon jetzt zu den besten, zumal selbst dem Luxus-Sängerteam um Juliane Banse und Thomas Quasthoff die tänzerische Beschwingtheit genauso ins Blut übergegangen ist wie die kontemplative Innigkeit."
December 2011/January 2012

Pizzicato: "… die klangprächtige Aufnahme […] beeindruckt durch gute Solisten, allen voran der hier wirklich großartige Thomas Quasthoff. Herausragend gut sind der fein ausbalancierte, immer eindringliche Chorgesang und das farbig und vital musizierende Orchester."
December 2011
Reviews