Product Overview
HANDEL IN ITALY
"There is certainly no place in the world, where a man may travel with greater pleasure and advantage than in ITALY. One finds something more particular in the face of the country, and more astonishing in the works of nature, than can be met with in any other part of Europe. It is the great school of music and painting, and contains in it all the noblest productions of statuary and architecture, both ancient and modern." (from Remarks on several parts of Italy etc 1705)
So there were pressing grounds for 18th-century amateurs of the arts to travel through Italy. Yet the twenty-one year old Georg Friedrich Handel, apparently arrogant and ambitious, hesitated, and had to be convinced by a rich Italian patron that for a young beginner such as himself, travel in Italy could only be advantageous. He arrived in Italy in autumn 1706, and stayed there till the spring of 1710. His main stopping points were the cities of Florence, Rome, Naples and Venice. He learned fluent Italian, worked with the best singers and instrumentalists, and thus gained the skills and experience that let him mature fully, and the 'Italian' influence is constantly present in his work.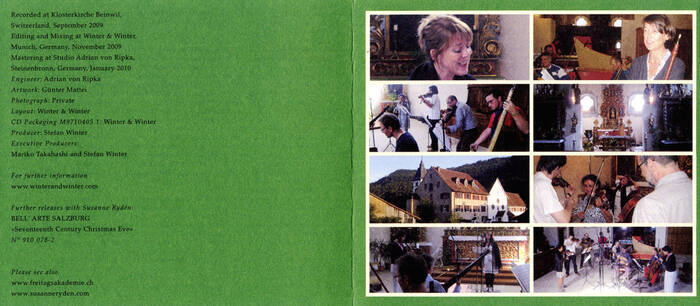 One can recognise this influence in his six solo concertos for oboe, both formally (the four-movement slow-fast-slow-fast form goes back to the church sonatas of the Rome-based composer Arcangelo Corelli) and stylistically – he incorporated into his compositions the colour and flair that distinguished the works of composers like Corelli, Vivaldi and Scarlatti. Moreover, he seems to have become so attracted to the 'sweet charm' of the oboe that it became his favourite instrument. It also has a notable role in the cantata "Delirio amoroso", where it is deployed as a solo instrument along with the violin and recorder. Handel composed this cantata in Rome, where opera performances were forbidden by papal decree. So while his operas were performed in other cities, in Rome he turned to another genre, related to opera: the cantata. "Delirio amoroso" is a particularly beautiful example of a substantial Italian cantata. The musical drama is conveyed through the thoughts of unhappy Cloris, weeping for dead Tirsis, who did not respond to her love when he was alive, and turns away from her even when she attempts to rescue him from hell. Cloris's tumultuous emotions, going from fury to forgiveness to love, are conveyed by Handel in animated recitatives and arias of elegiac beauty, with instrumental interludes. The cantatas were almost all written for solo voice or a small group of soloists, offering in miniature the drama and vocal brilliance found otherwise in opera.
In this programme, the cavaliere Alessandro Scarlatti is represented by a virtuoso harpsichord toccata. His contemporaries revered him just as much for his emotive cantata- and instrumental style as for his highly learned counterpoint. In his harpsichord toccatas there is also a motoric element. Hurtling chains of semiquavers pervade the whole piece. No-one prior to him had used this technique so consistently. In the middle movement Scarlatti transfers his recitative style to the harpsichord; the result is, in effect, a speech-like instrumental style with bold modulations and changes of affect. The final fugal form is used here, as in many fugues by Handel, more as an effective way to draw the listener into a whirl of sound and motion.
Just a few years after they were written (in 1700), Corelli's violin sonatas Op. V already ranked as masterpieces. Corelli's own style of playing and embellishing was imitated by many pupils, and rapidly spread through Germany and France, and on to England. The A major Sonata is a fine example of how, in his slow movements, Corelli takes the highly embellished melodic line emotionally to the limits, yet is always able to cadence naturally, on account of the clear bass line. In the following movements, too, Corelli plays in virtuoso fashion with the elements of tension and relaxation, guiding the listener through an extremely intense emotional discourse which, at the end, brings a sense of difficulties happily overcome. His double-stops and virtuoso passages set new standards for violin playing, and these strongly influenced Handel, who must surely have had direct experience of Corelli's playing.
(Translation: Richard Toop)
Musicians
Compositions
Susanne Rydén

[soprano]



Die Freitagsakademie:
Katharina Suske

[oboe, alto recorder]


Hélène Schmitt

[violin]


Vitaly Shestakov

[violin]


Lorenz Hasler

[viola]


Bernhard Maurer

[violoncello]


Jan Krigovsky

[violone]


Jörg-Andreas Bötticher

[harpsichord]


Jonathan Rubin

[archlute, baroque guitar]





Georg Friedrich Händel
Concerto N° 3 in G minor for oboe, strings and b.c. (HWV 287)
1. Grave
2. Allegro
3. Sarabande (Largo)
4. Allegro

Georg Friedrich Händel
Mi palpita il cor (HWV 132)
Cantata for soprano, oboe and b. c.
5. Adagio
6. Recitativo
7. Aria
8. Recitativo
9. Aria Allegro

Alessandro Scarlatti
Toccata in D minor for keyboard "d'ottava stesa"
10. Presto
11. Adagio. Cantabile appoggiato
12. Presto
13. Fuga

Georg Friedrich Händel
Delirio Amoroso (HWV 99)
Cantata for soprano and instruments
14. Introduzione
15. Recitativo
16. Aria
17. Recitativo
18. Aria
19.00. Recitativo
20. Aria
21. Recitativo
22. Entrée
23. Minuet
24. Aria
25. Recitativo
26. Minuet

Arcangelo Corelli
Sonata N° 6 in A major for violin and b. c. (Op. 5)
27. Grave
28. Allegro
29. Allegro
30. Adagio
31. Allegro


total time: 76:36
Musik & Theater: Mitreißende Musizierlust - Lebendigste Barockmusik
May 2010

Klassiekezaken: "Met gemak and gevoel voor ingetogen dramatiek brengen de sopraan Susanne Rydén, de lyrische blazers en lichtvoetige continuospelers van het gezelschap de 'Italiaanse' pareltjes Il delirio amoroso en Mi palpita il cor voor het voetlicht. Een geslaagd uitstapje."
June 2010

Die Tonkunst: "Mit sattem Klang begleitet das einfach besetzte Ensemble Katharina Suske in Händels Oboenkonzert g-Moll. Eleganz und Würde stehen Ausgelassenheit und Unbeschwertheit gegenüber. Susanne Rydén entwickelt in den Kantaten HWV 132 und 99 aus der Lockerheit ihrer Stimme heraus eine goße Intensität."
August 2010
Reviews