Product Overview
The present string quartet, my third one, belongs to the series of »Monadologien«. They are all united through the method of how the material is worked:
Cellular automata and granular analytical methods are used to process the historical texts, in an approach comparable to the experimental films by Raphael Montañez Ortíz and Martin Arnold using »found footage«.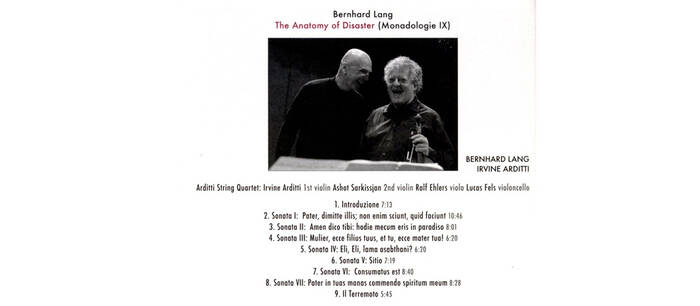 Thus, the starting samples in Monadologien II and III came from Richard Strauss, in Monadologie V for piano from Haydn's »Seven last Words…«, the reference material for Monadologie VI is a Gregorian Chant, in Monadologie VII Arnold Schönberg's »2. Kammersinfonie« in Monadologie X Mozart's »Alla Turca« and in Monadologie XI Anton Webern's »Symphonie op. 21«.
In Monadologie IX I try again, by analogy to Haydn's different versions of »The Seven last Words…«, to give titles. The order of the movements is identical to the original, a short sample from the original work gives rise to the following overall course:
1 Introduzione
2 Sonata I: Pater, dimitte illis; non enim sciunt, quid faciunt
3 Sonata II: Amen dico tibi: hodie mecum eris in paradiso
4 Sonata III: Mulier, ecce filius tuus, et tu, ecce mater tua !
5 Sonata IV: Eli, Eli, lama asabthani?
6 Sonata V : sitio
7 Sonata VI: Consumatus est
8 Sonata VII: Pater in tuas manas commendo spiritum meum
9 Il Terremoto
All movements circle around so-called catastrophic episodes, where the evolving process comes to a standstill and its progress is blocked in "dead repetitions" (Gilles Deleuze), like a stuck record or a defective DVD. An important source of inspiration for the Monadologien and therefore also for the quartet was Stephen Wolfram's »A New Kind of Science«, a book, I consider to be a new study of composition.
— Bernhard Lang
Musicians
Compositions
Arditti String Quartet
Irvine Arditti

[1st violin]


Ashot Sarkissjan

[2nd violin]


Lucas Fels

[violoncello]


Ralf Ehlers

[viola]

1. Introduzione
2. Sonata I: Pater, dimitte illis; non enim sciunt, quid faciunt
3. Sonata II: Amen dico tibi: hodie mecum eris in paradiso
4. Sonata III: Mulier, ecce filius tuus, et tu, ecce mater tua!
5. Sonata IV: Eli, Eli, lama asabthani?
6. Sonata V: Sitio
7. Sonata VI: Consumatus est
8. Sonata VII: Pater in tuas manas commendo spiritum meum
9. Il Terremoto
Composition by Bernhard Lang

total time: 68:58
Berliner Zeitung: "Zu den jährlichen Neuerscheinungen zur Passionszeit gehören neben den Bach'schen Passionen Joseph Haydns "Sieben letzte Worte" in einer seiner vielen Fassungen; so gut wie nie hört man das Oratorium, selten die ursprünglichen Orchesterstücke, die Haydn für die Passionsandachten in Andalusien schrieb, am häufigsten die Streichquartett-Version. Diese nun hat der österreichische Komponist Bernhard Lang … wiederum bearbeitet. […] Die Melodien, die Haydn … erfunden hat, geraten hier ins Stottern, in kurzatmige, Tic-hafte Wiederholungs-Schleifen. Doch trotz der zuweilen brachialen Klangsprache erhält das Material in Langs Bearbeitung einen meditativen Ausdruck …"
April 5/6, 2014

Münchner Merkur: "Im besten postmodernen Sinne hat der österreichische Avantgarde-Komponist Bernhard Lang Auszüge aus Haydns "Die sieben letzten Worte unseres Erlösers am Kreuz" mit Hilfe eines Computerprogramms, das Klänge selbständig mutieren läßt, überarbeitet und verfremdet. Entstanden ist eine kraftvolle, komplexe, stilistisch zwischen Atonalität und Minimal Music pendelnde Komposition. Das auf Neue Musik spezialisierte Arditti String Quartet ist der ideale Interpret."
May 27, 2014

Concerto: "Repetitive Mikro-Formen, die mit konzentriert-intensiver Dynamik vom Arditti String Quartet […] interpretiert werden, stehen am Anfang dieser Untersuchung, die verhalten und respektvoll dem Inneren des dahinter liegenden spirituellen Grundgedankens nachspürt. […] Neue Musik, wie dieses Werk von Bernhard Lang, braucht abseits der Konzerte Tonträger wie diese, um sich durch mehrmalige Hörgänge der Vielfalt ihrer Sprache zu nähern."
N° 3, 2014

Gramophone: "the final gesture, an unresolved tonal brainworm that leaves the piece suspended in mid-air took my breath away."
September 2014
Reviews